Invisalign® Straightens Teeth Discreetly and Effectively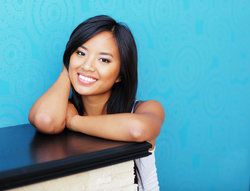 Crooked teeth can compromise your satisfaction in your appearance and even affect your overall health. Many of our patients are surprised to learn that dental misalignment can increase your risk for decay, gum disease, temporomandibular (TMJ) disorder, and structural damage to your teeth. However, even knowing about these risks, you may balk at the idea of traditional orthodontic treatment. Fortunately, Drs. Wu and Dowd offer subtle Invisalign® treatment to our patients in Woodinville and the surrounding areas. These clear aligner trays are custom designed to straighten your teeth in as little as nine months. To learn more about Invisalign® and whether it is right for you, contact our office today.
How Invisalign® Works
To determine if you are a good candidate for Invisalign®, you will undergo an examination and consultation with one of our doctors, both of whom are Invisalign® trained and certified. If you are found to be a good candidate, your dentist will take detailed pictures of your teeth and use them to create a 3D model of your mouth. Employing this digital image, your dentist can devise the best treatment plan for you, and also manipulate the model to show you how your teeth will gradually move during the course of your treatment.
Following this prep work, your dentist will send the 3D images to an Invisalign® lab, where technicians will create a series of clear, customized aligners using BPA-free plastic. When you receive the aligners, you will wear each one for approximately two weeks before switching to the next aligner in the series. Over the course of your treatment, your teeth will gradually shift into their new, healthier - and more attractive - positions.
Candidacy & Considerations
Invisalign® can treat an array of orthodontic problems, including crooked teeth and malocclusion, or misaligned bites. In the past, Invisalign® was only suitable for patients seeking minor cosmetic correction. However, improved technology has made this an effective treatment for most patients, except those with the most severe malocclusion. If you struggle with crooked teeth, gapped teeth, an overbite, underbite, crossbite, or open bite, you are probably a good candidate for Invisalign®.
Patient Benefits
In addition to effectively targeting a wide range of orthodontic issues, Invisalign® treatment offers a number of significant advantages, including:
Subtlety – Invisalign® is the most discreet form of orthodontic treatment. Because they are made from clear plastic, many people will never even notice you are wearing your aligners.
Comfort – The clear aligners are custom crafted to snugly fit your teeth. Although you may feel slight pressure when you switch to a new aligner, Invisalign® is typically more comfortable than traditional metal braces. And the smooth surface of the aligners will not irritate the inside of your mouth.
Efficiency – When you choose Invisalign®, you will have fewer visits to your dentist than if you choose another orthodontic method. Invisalign® requires checkups approximately every six weeks to check on your progress.
Convenience – Your clear aligners are removable. For best results, you should wear them 20 to 22 hours a day, but you can take them out when you eat, and you can continue to enjoy your favorite foods throughout the course of your treatment.
Invisalign® aligners are easy to clean, and because they are removable, it is much easier to brush and floss your teeth as usual. Thanks to Invisalign®, you can continue to practice good oral hygiene as you straighten your smile.
Schedule an Appointment
We believe everyone deserves a beautiful, healthy smile they are confident with. To learn more about the benefits of Invisalign®, schedule an appointment at Signature Smiles today.